Visit Asheville's Best Breweries!
Our brewery tour partners are what make our tours possible! Downtown Asheville is home to more than a dozen brewery tasting rooms, and our walking tours are the perfect way to explore all our city has to offer. Let us take you to some of our local favorites! You'll get exclusive access to brewery production areas and hear the stories behind the pints. You'll sample the raw materials used in beer making, learn the histories of your favorite beer styles and gain an understanding as to why Asheville is the brewery capital of the Southeast! Here are few of the brewery tour partners you might visit on our tours.
Positioned in the South Slope brewing district at 32 Banks Ave #105, Asheville, NC 28801, Catawba Brewing Company is a true testament to the craft brewing spirit. From modest homebrewing roots in the 1990s to a notable presence in the Western North Carolina beer scene, Catawba has traversed a journey full of passion, creativity, and resilience.
This brewery, which can also be visited online at www.catawbabrewing.com, was born out of the shared dream of brothers Billy and Scott Pyatt. They took their love for homebrewing and transformed it into a venture that now includes four locations across the state. In the process, they've made Catawba a household name among beer enthusiasts and contributed significantly to the evolution of Asheville's thriving craft beer community.
What sets Catawba Brewing apart is the breadth of its beer offerings. Their portfolio spans a variety of styles, showcasing the diverse flavor profiles that craft beer can achieve. The standout, though, has to be their White Zombie White Ale. Inspired by Belgian Witbier style, this concoction presents a careful blend of Belgian yeast, coriander, and orange peel, producing a beer that's light, refreshing, and subtly spiced. Each sip of White Zombie is a testament to Catawba's commitment to quality and their knack for capturing complex flavors.
Another fun beer in Catawba's lineup is their Evening Joe Coffee Blonde Ale. This beer is great in that its looks are deceiving. From it's appearance you'd think it was a Pale Ale or a Light Lager, but once you take a whiff of its aroma, you're blown away by notes of coffee and vanilla. It's a super fun beer to pour on our tours.
As a venue, Catawba Brewing's Asheville location exemplifies the relaxed and welcoming atmosphere characteristic of Asheville's beer scene. The interior aesthetic is an engaging mix of rustic and industrial elements, while the exterior patio provides a casual spot to enjoy Asheville's temperate climate. Both spaces echo with the lively chatter of locals and tourists alike, uniting over their shared appreciation for great beer.
Catawba also regularly hosts community events, from trivia nights to live music sessions. These events reflect the strong sense of community integral to Asheville's identity, adding another dimension to the Catawba experience. When you walk into Catawba Brewing, you're not just entering a brewery; you're becoming part of a community that's brought together by its love for craft beer.
Enjoy Catawba On A Brewery Tour With Us
When we bring our guests to Catawba Brewing, we're introducing them to a brewery that embodies what Asheville's beer scene is all about. It's about creating excellent beer, yes, but it's also about fostering a sense of togetherness, about savoring the moment, about appreciating the skill and artistry that goes into each brew. Catawba Brewing delivers on all these fronts, making it an unmissable stop on any Asheville brewery tour.
So, whether you're a local or a visitor to Asheville, we invite you to explore Catawba Brewing Company. Experience firsthand the craft, creativity, and community spirit that have made them a beloved part of Asheville's beer culture. Enjoy the nuanced flavors of their brews, the warmth of their space, and the camaraderie of fellow beer lovers. We're sure you'll leave with a deeper appreciation for the passion and artistry that make Asheville's beer scene one of the best in the country.
Located at 40 Collier Ave, Asheville, NC 28801 and accessible online at www.burialbeer.com, Burial Beer Co. is one of Asheville's most popular breweries.
Established in 2013 by Doug Reiser, Tim Gormley, and Jess Reiser, Burial Beer Co. started as a one-barrel system, a small venture rooted in a shared passion for brewing. Today, it has grown to be a critical player in Asheville's craft beer scene, celebrated for its array of lagers, hazy IPAs, and, of course, the revered Skillet Donut Stout.
A standout in their lager collection, Shadowclock Pilsner embraces tradition. Clean, crisp, and delicately balanced, it's a testament to the art of lager brewing, showcasing the brewery's technical prowess and respect for the style. Burial's hazy IPAs exhibit their knack for creativity, each one a lush, juicy tapestry of innovative hop combinations and robust flavors.
But perhaps nothing captures the essence of Burial quite like their Skillet Donut Stout. This beer is an ode to the breakfast stout style, a sweet yet robust concoction that melds nine barley malts with oats, milk sugar, and cold-pressed Counter Culture Coffee. Each sip is an experience, delivering flavors of chocolate-covered espresso beans, syrup-drenched pancakes, and freshly made doughnuts. It's a beer that demonstrates the innovative spirit at the heart of Burial.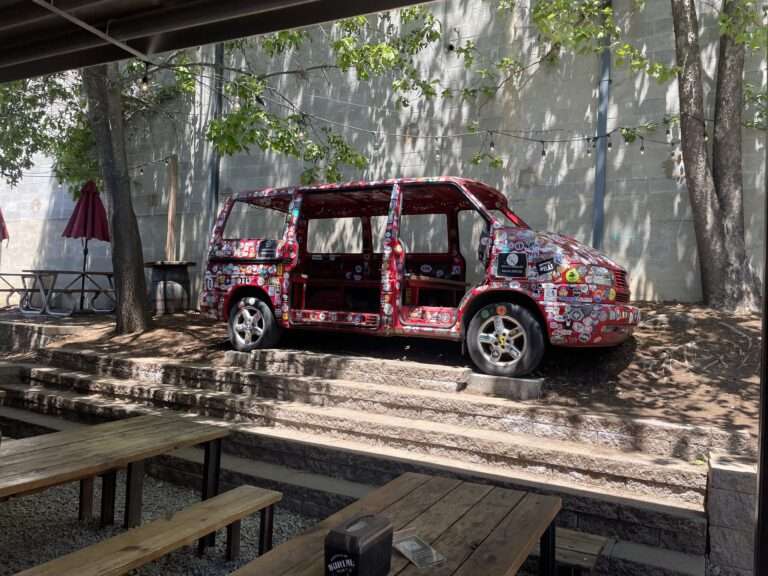 Burial's taproom on Collier Avenue is an intimate space that embodies the brewery's rustic yet modern aesthetics. From the reclaimed wood bar to the atmospheric lighting, every element in the space is thoughtfully curated, while also keeping things raw and authentic.
Burial is housed in an old radiator repair shop in Asheville's South Slope. From their humble beginnings producing 31 gallon batches of beer, Burial's tasting room has grown along with its brewhouse. Today, Burial has a beautiful outdoor area for enjoying their award winning beers. Hang out in the old truck on the property or at the top of their rooftop patio. Anywhere you choose to relax, you'll get a great seat at a great brewery.
Why Burial is on Our Tours
At BREW-ed Brewery Tours, we're proud to feature Burial Beer Co. on our walking tour. This brewery embodies the blend of creativity, technical skill, and a love for tradition that makes Asheville's beer scene so great. Our guests get to sample a range of their offerings, from the crisp Shadowclock Pilsner to the bold Skillet Donut Stout, each beer offering a unique glimpse into the art of Asheville brewing.
Burial has grown a lot since 2013, but they've stayed true to who they are. They produce amazing beers and host their customers in an amazing space. Burial is authentic Asheville, and we are proud to feature them on our brewery tours.
Located at 27 Buxton Ave, Asheville, NC 28801 and online at www.greenmanbrewery.com, Green Man Brewery is a cornerstone of Asheville's brewing heritage. Its roots run deep into Asheville's history, contributing not only to the city's beer culture but also its broader narrative.
Founded in 1997, Green Man stands as one of the city's oldest breweries, crafting traditional English style ales with an unwavering commitment to quality. As Asheville's beer scene has expanded and diversified, Green Man has remained resolute in their ethos, consistently producing beers that highlight the timeless appeal of traditional styles while infusing them with their unique brand of creativity.
In the pantheon of Green Man's offerings, the Green Man ESB (Extra Special Bitter) stands as a testament to the brewery's commitment to English-style brewing. Contrary to its name, this brew isn't particularly bitter. Instead, it delivers a malt-forward profile balanced by an earthy hop bitterness, providing a drinkability that is timelessly appealing. This brew is an homage to Green Man's roots, a nod to tradition even as they continue to innovate.
Speaking of innovation, the Trickster IPA is a great example of how Green Man pushes the envelope while staying true to their identity. This IPA marries traditional brewing techniques with modern flavor profiles, presenting a bright citrus and tropical hop character against light bready malts.
A visit to Green Man isn't complete without a stop at Dirty Jack's, the original tasting room, and the oldest brewery tasting room in Asheville. Dirty Jack's gets its name from Green Man's early days as part of Jack of the Wood Pub. While the pub at the top of Coxe Avenue was polished and proper, the tasting room on Buxton Avenue was not, thus earning it the moniker "Dirty Jack's". 
This intimate space is all about preserving and celebrating the ethos of Green Man Brewery. The walls, adorned with brewery memorabilia, tell a story of craft, dedication, and community. As you step into Dirty Jack's, you step into a part of Asheville's brewing history – a history characterized by authenticity, passion, and a deep sense of community.
Tour Green Man Brewery With Us!
At BREW-ed Brewery Tours, introducing our guests to Green Man Brewery, particularly Dirty Jack's, is always a highlight. It's about more than just tasting great beer. It's about experiencing a piece of Asheville's brewing history and understanding the tradition-meets-innovation ethos that defines our city's beer culture.
Perched at 144 Coxe Ave, Asheville, NC 28801 and available online at www.twinleafbrewery.com, Twin Leaf Brewery is a beacon of creativity and community in Asheville's celebrated South Slope brewing district.
Launched in 2014 by Tim Weber, Twin Leaf is a testament to Tim's passion for brewing and his belief in craft beer as a catalyst for community. His dream was to create a brewery that was more than just a place to grab a pint, but a welcoming space where friends, families, and strangers could connect and engage. Today, Twin Leaf embodies this vision, offering both remarkable beers and a venue that nurtures community.
A visit to Twin Leaf isn't complete without a taste of their flagship brew, the 144 IPA "Codename Juicy Fruit". Named after the brewery's street address, the 144 IPA is a classic American IPA. It delivers a punch of citrus and pine hop character balanced by bready malts. 144 showcases Twin Leaf's skill at creating full-flavored, well-balanced beers.
Also a standout is the Luminosity Belgian Tripel, a brew that showcases the brewery's versatility. Luminosity carries notes of spice and fruit esters from the fermentation, and a warming alcohol presence from its 9% ABV. It's a complex yet beautifully balanced Belgian style beer, demonstrating Twin Leaf's knack for tackling diverse styles with finesse.
Step into Twin Leaf's taproom, and you'll find a space that reflects the brewery's commitment to community. The taproom, characterized by its open floor plan and industrial-chic decor, invites conversation and camaraderie. An assortment of board games and regular community events foster an atmosphere that's more akin to a friendly gathering than a simple tasting room
At BREW-ed Brewery Tours, Twin Leaf Brewery holds a special place on our walking tour. It exemplifies the essence of Asheville's beer culture – a seamless fusion of exceptional craft brewing and vibrant community engagement. Visitors not only get to taste some of the best beers Asheville has to offer, but they also get a taste of the camaraderie and spirit that define our city's brewing scene.
So, whether you're an Asheville local or a visitor looking to dive into our city's beer culture, we invite you to experience Twin Leaf Brewery. Come for their great beers, like their 144 IPA or Luminosity Belgian Tripel, and stay for the warm, welcoming atmosphere. We assure you, a visit to Twin Leaf is more than just a brewery stop; it's a taste of the heart and soul of Asheville's beer community.
Strategically located at 24 Buxton Ave, Asheville, NC 28801 and accessible online at www.urbanorchardcider.com, Urban Orchard Cidery brings an exciting dimension to Asheville's flourishing beverage scene.
Opened in 2013 by Josie Mielke, Urban Orchard Cidery has brought a refreshing twist to Asheville's drinkable landscape, specializing in the artisanal production of hard cider. From the onset, Urban Orchard sought to showcase the potential of North Carolina's apple bounty, sourcing all their apples from Hendersonville, NC, a region renowned for its apple orchards.
Among their intriguing line-up of ciders, the Cidra Diablo and the Dry English Cider stand as unmissable experiences. The Sidra del Diablo, a semi-sweet cider, pairs North Carolina apples with fresh habanero and vanilla to deliver a cider that's equal parts sweet, spicy, and utterly unique. On the other hand, the Dry English Cider is a nod to traditional cider-making, offering a crisp, dry cider that is simple yet satisfying. Both ciders embody Urban Orchard's commitment to utilizing locally sourced ingredients and their creativity in crafting original, memorable flavors.
Urban Orchard's Tasting Room
Situated in Asheville's South Slope brewing district, Urban Orchard's Buxton Avenue tasting room is a hub of activity and innovation. The modern, bright space offers an inviting atmosphere where patrons can sip on the cidery's diverse offerings while learning about the cider-making process. Urban Orchard's tasting room is easily one of the most comfortable in Asheville, featuring distinct lounge areas where groups of friends can gather. And, Urban Orchard has air conditioning… a priceless commodity in Asheville's warm and humid summers. 
Why Urban Orchard Is On Our Tours
At BREW-ed Brewery Tours, we're thrilled to feature Urban Orchard Cidery on our walking tour. It offers our guests a taste of Asheville's beverage diversity, demonstrating that the city's craft beverage scene extends beyond beer. Visitors can explore a different aspect of our local beverage culture, savoring cider made from North Carolina's apple abundance.
Whether you're an Asheville local or a visitor keen to delve into our rich beverage scene, we invite you to experience Urban Orchard Cidery. Sample their innovative ciders, like the Cidra Diablo or the Dry English Cider, and immerse yourself in the creativity and craft of Asheville's cider scene. A visit to Urban Orchard Cidery is not just about tasting great cider, but also about understanding and appreciating the care, creativity, and local focus that goes into every glass. We're confident that Urban Orchard will leave you with a renewed appreciation for the art of cider-making and Asheville's commitment to local produce.