Jack McAuliffe- America's First Craft Brewer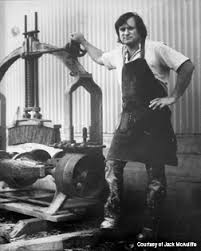 When people think of the birth of craft beer in the US, many brewery names are thrown around. Heads will be nodded in the directions of Sierra Nevada, Boston Beer (Sam Adams), Anchor Brewing and a few others. One name that is often left out of the conversation is New Albion. Though the brewery ceased operations over thirty years ago and never got beer into markets farther than a day's drive from their Northern California location, New Albion and its founder Jack McAuliffe earned the title of first craft brewery in the US since the repeal of prohibition.
In 1976, Jack McAuliffe, a former Navy man, opened a small and ultimately unsuccessful brewery in Northern California. He didn't have much money, but he did have the ingenuity and mechanical skills to take old dairy equipment and other salvage yard items and turn them into a brewery capable of producing great beer. The name New Albion was a reference to the name Sir Francis Drake gave to Northern California when he explored its coast. The logo on the bottles was of Raleigh's ship, The Golden Hinde. The beer inside the bottles was the first American Pale Ale. Bright citrusy hops grown near the brewery were used for flavor and aroma in a way that brewers hadn't used them before. The result of McAuliffe's work was well received but a lack of financing kept him from being able to produce enough beer to turn a profit. Investors at that time didn't know what to think of a man who slept in his own brewery and made a product that no one had seen before. It was difficult to convince people that though he had no intention of competing with the big brewers in St Louis and Golden his hand crafted product could be profitable. New Albion ran out of money and closed its doors in 1982.
In those six years though, New Albion helped pave the way for other craft brewers. First, one of the major obstacles to New Albion's success was legislation in California that prevented McAuliffe from selling his beer on the premises of the brewery. He had to sell it to a retailer who would then sell it to customers. Working with Fritz Maytag of Anchor Brewing and with many vineyards throughout the state, McAuliffe successfully petitioned the state to change the law making tasting rooms for wine and beer possible. Still today, many small breweries rely on the higher profits of on premise sales to fund their operations.
Also, McAuliffe's brewery was an inspiration to those who visited and continues to be used as a model for underfunded brewers starting in the business. One of those underfunded visitors was a young man named Ken Grossman. He visited New Albion several times and used it as a model to start a brewery called Sierra Nevada. In fact, the pale ale Sierra Nevada brews was inspired by the one Grossman had at New Albion.
Though personally unsuccessful, New Albion's legacy sparked the craft beer movement in America. When the brewery's name came up for auction several years ago Jim Koch of Boston Beer Company bought the rights. This past year Boston Beer brewed a recreation of New Albion's pale ale and packaged it with the same logo McAuliffe used thirty years ago. Not only did Koch bring this craft ancestor back from the dead, he is working toward making sure that it doesn't disappear again.
Though McAuliffe now lives off the grid somewhere in Arkansas, his daughter Renee DeLuca is working to revive her father's brand. Interestingly, it was only recently that she found out that McAuliffe is her dad. After finding out that McAuliffe had an heir, Jim Koch contacted her and gave her the rights to the New Albion name. In a final interesting twist, DeLuca is in talks with Mendocino Brewing, the company her father went to work for after New Albion closed, to contract brew New Albion beer for her until she builds her own facility. If you would like to keep up with the future of New Albion, DeLuca runs a blog called The Brewer's Daughter.
The story of Jack McAuliffe and New Albion is one that I love to tell. That ingenuity, determination and creativity is still alive in craft breweries all over our country. Also, the collaborative efforts of brewers around the country for the betterment of the whole is rare in this competitive, undercutting business world. Koch's offer to give a valuable name to De Luca wouldn't happen in many other industries. I am constantly inspired by the kindness and generosity of those I meet in the beer world.
If you'd like to hear more craft beer stories over a pint, join me on a brewery tour.