Asheville is Beer City USA!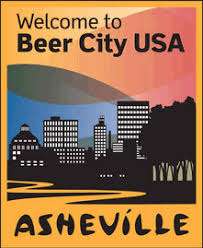 Craft beer and Homebrewing pioneer Charlie Papazian recently announced that The Examiner's Beer City poll will not continue.  The poll was designed for readers to first nominate and from those nominations choose the one city in the US that would best be described as "Beer City".  Asheville won the poll four out of five times, making it the winningest city during the poll's run.  Over the past several years I've overheard bar patrons attempting to explain to their out of town guests what the title of Beer City meant.  Everything from, "We have more breweries per capita than anywhere in the country," to, "We make the best beer in the US," were given as reasons for the title.  While we do have over a dozen breweries in a city of 80,000 or so people, Hood River Oregon takes the per capita title with 7,214 people and five breweries. Our breweries do make some excellent beer, but none are nationally distributed and many aren't well known outside the Asheville area.  Neither of those were the reasons Asheville kept coming out on top.  Instead, the title really came from an online popularity contest, but its importance can't be ignored.
By all logic there are much more substantial "Beer Cities" than Asheville.  Measuring the number of breweries, number of medals won at GABF, amount of beer being produced in barrels, or number of beer bars and bottle shops in each city would leave our town trailing the competition.  Places like Portland and Denver easily top Asheville in any of those tallies.  What the Beer City poll did was leverage something Asheville does have when it comes to beer: passionate community support.
Each year, a city with a population one tenth of those above would rally its people to help make our mountain town stand out.  I would hear stories of locals who voted from every electronic device at their disposal to help bring up the count.  Local media would keep people up to date as to how much time they had left to vote and how the contest was going.  And it worked. Year after year, Asheville would win or tie for first.  The pride of our community was our key to success.
What Asheville got from the poll was worth far more than anyone could have expected.  Big breweries from out west began to seriously consider a fairly remote mountain town for their east coast expansion.  From a logistical standpoint, there are far better choices than Asheville to situate a production facility.  Access to major markets, interstate highways or cheap land did not make Asheville the clear choice over the competition.  Other cities could boast much more as far as those assets were concerned.  Community support of beer, brewing and an overall excellent quality of life helped set Asheville apart.  The Beer City poll showed these companies that they would be welcomed to the area with open arms and enter into an established beer community rather than have to create one somewhere else. 
As Oskar Blues, Sierra Nevada and New Belgium start production, the area is going to get the immediate benefit of hundreds of good paying jobs, a rare commodity in Asheville.  In addition, it has been estimated that by 2016 Asheville will see an additional one million visitors each year just for beer.  While they're here, these beer tourists will spend their money at our local breweries, restaurants, hotels, gas stations, shops, etc.  All local businesses will see the benefit from our beer industry. 
While the poll was never a scientific measure of how "Beer City" a city might be, Asheville's passion for our beer scene led us to repeat victories over much larger and longer established competitors.  I'll probably miss the excitement of the last few days of the poll each year, with everyone discussing the real-time results and how long they have left to vote.  But we have seen more benefit from it than anyone could have expected, and it's always good to go out on top.   
If you'd like to join us on one of our Beer City Brewery Tours, we'd love to show you around!