Our brewery tours named among the best in the world!
How crazy is that? I thought the email from TripAdvisor was just another marketing tool, and I was super surprised to see the news! I just want to take a minute to offer a huge thank you to all of our amazing tour guests who took the time to write such nice reviews about their brewery tour experience with us. Your kind words led TripAdvisor to name BREW-ed as the Number #5 Brewery Tour Experience in the World. This is a huge honor for us. Every day we get the opportunity to show our guests behind the scenes of the craft beer industry here in Asheville, and it is so rewarding to know that people are enjoying our tours. Thank you so much for taking the time to share your experiences with others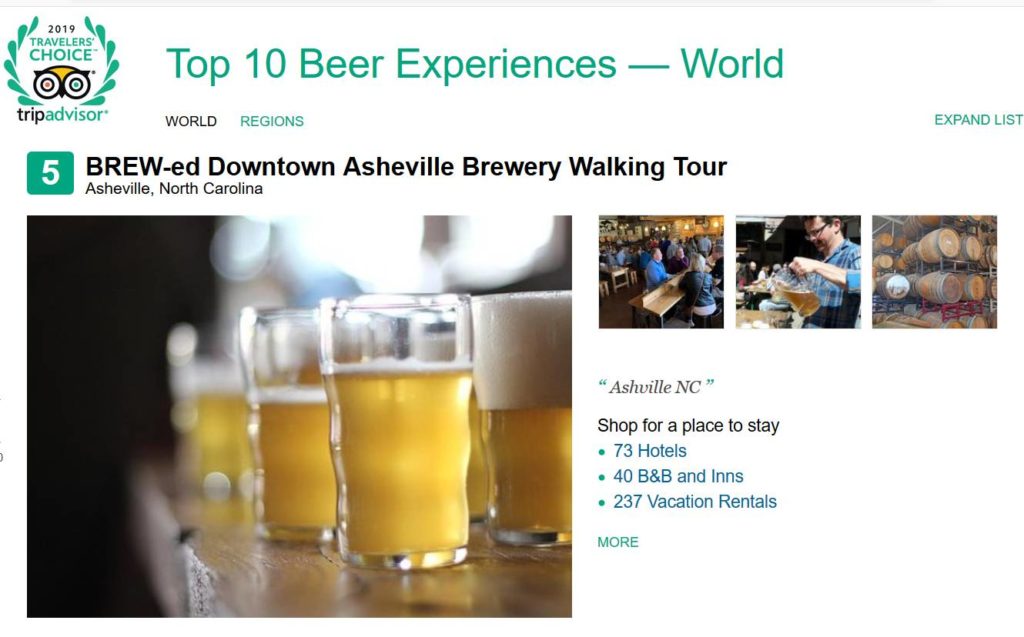 This also shows how writing reviews can really impact someone's business. I was always very casual about review writing for positive experiences (or even negative ones, really) until I started my brewery tour business. Over the past six and a half years I've come to see how much reviews matter. If you have a good experience on my beer tour, out at a restaurant, or even buying a cell phone case from Amazon, let others know. As an owner, it feels good to get the positive feedback, and it can lead other people to finding a great product/experience. Your opinion matters, share it.
Oh, and here's the rest of the list: Top Tours. Looks like some really interesting ways to drink local beer! So honored to be among them.
If You'd Like To Join Us on An Asheville Brewery Tour, Check Out All The Options!