Hi-Wire Brewing Announces Big Expansion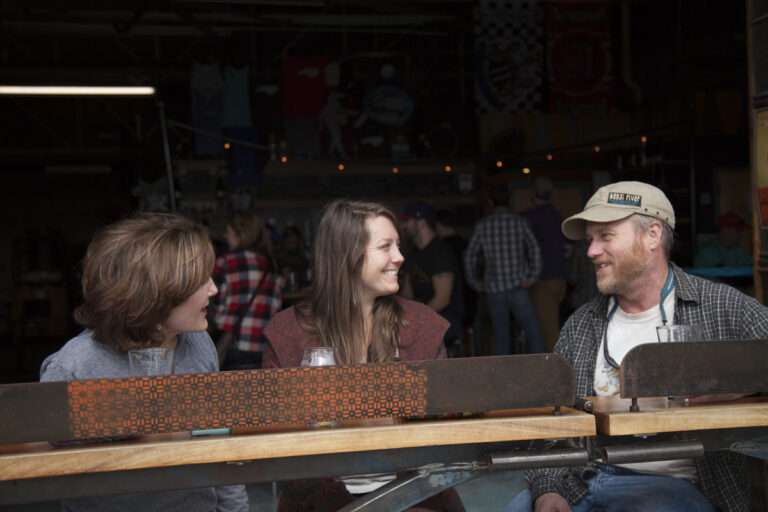 Hi-Wire Brewing is featured on BREW-ed's Saturday Brewery Tours of downtown Asheville.  The brewery recently announced plans to increase their capacity by 75%.
By adding two new 30 barrel fermenters and one new 30 barrel bright tank, they hope to meet the state's ever increasing demand for great beer.
I spoke with co-owner Adam Charnack last week about the expansion and about the brewery's first year in business. Hi-Wire Brewing is celebrating their one year anniversary this month and it's been a big year for the circus-themed beer maker.
When Hi-Wire Brewing opened its doors last June they flipped the traditional model for opening a small brewery on its head.  Typically, small brewers start by selling their beer to their tasting room customers and a few kegs around town.  As they grow, they might sell kegs to the next town over and only after years of business do they consider bottling.
Hi-Wire signed on to have their 12oz bottles distributed throughout North Carolina from day one.  When asked why they would go against the conventional wisdom of starting a brewery, Adam told me the bottles just made sense.
"This is how I buy beer.  If I'm exhausted at the end of the work day, I want to be able to take a six pack home.  It's super labor intensive, but it's important to fill that need."
Adam credits this bold move as one of the reasons for their success.  "We didn't realize how successful the bottles would be.  Six packs have really helped us.  Consumers who drink our beer like the quality first and foremost, but I think the thought and care and craft that goes into the brand are important.  It's a lot easier to relay that with six pack packaging.  They can interact with the beer in a different way, and they can take it with them."
It looks like the plan worked.  Hi-Wire estimated 800 barrels of production in year one.  They produced 2000.
"We thought that we were going to be going door to door begging bars to sell our beer.  That didn't happen.  We're pretty much on year four of our business plan," said Adam.  In fact, the brewery's beers have been so popular they've had a hard time keeping up with demand.
The additional tank space will allow Hi-Wire to produce an estimated 3500 barrels a year, roughly equal to Black Mountain's Pisgah Brewing.  For now, that beer will stay in North Carolina with a lot of it going to the Charlotte area and the Triangle.  Adam told me that, "Outside of Asheville, Charlotte is our biggest market."
While the availability of Hi-Wire's bottles has certainly helped boost sales, the beers themselves are what set the brewery apart.  Hi-Wire won North Carolina's Best New Brewery of the Year from ratebeer.com, a total surprise to the owners.
"I honestly thought it was a joke," said Adam.  "I remember checking my email and seeing 'You won'.  I figured it was a scam from some third world country.  You know, 'Please send us your passport to claim your prize!' But, as I kept reading I realized they were serious.  To be recognized that way so early on was mind blowing."
So which beer is Adam's favorite?  "Of course I like them all.  From a sales stand point, though, our brown ale was the dark horse surprise.  It has become our biggest seller, even in this summer heat.  Asheville is such a hop town, we were really blown away by the numbers.  People appreciate how drinkable it is, even with all of that malt flavor."
When asked about the bigger picture plans for the brewery, Adam told me that they have space in their current location to expand, though a separate location for production is something they've considered.  "We're definitely going to keep the Hilliard location, no matter what."
As for the brew house they inherited from former tenant Craggie Brewing?  According to Adam, "Hand-me-downs are great.  Growing up that was what I always had, whether it was skiing, mountain biking, whatever.  You get to learn, fall a few times, and figure out what you want when it's time to purchase your own.  Taking over an existing brewery space let us get into the black a lot sooner than if we had to pay off a lot of shiny new equipment.  And the old brew house performs another service in that it allows us to support a lot of employees to keep it running."
Adam also told me that with the expansion, Hi-Wire has added two new full time employees.
I also asked Adam what his thoughts were on all of the breweries operating in Asheville and if he had considered any other cities to start his brewery.  "Asheville was always the only choice.  It's home.  Both Chris and I lived here before we opened a brewery and I've been visiting Asheville since I was nine.  There was never another option.  I think the success of all of the local breweries is a testament to the local beer culture.  Everyone can do things a little differently and all be successful."
As far as their current plans for success, Hi-Wire will continue to produce their four year-round staples as well as six seasonals.  This season's Uprisin' Hefeweizen will go on sale this week on draft and in bottles.  The traditional German wheat beer features banana and clove character from the yeast, and all of the wheat used to make it was malted by Asheville's own Riverbend Malt.  The Ringmaster's Reserve series will also continue with four barrel aged limited edition releases each year.
To find out more about Hi-Wire Brewing, check them out on a brewery tour