Four Asheville Oktoberfest Beers to Try This Fall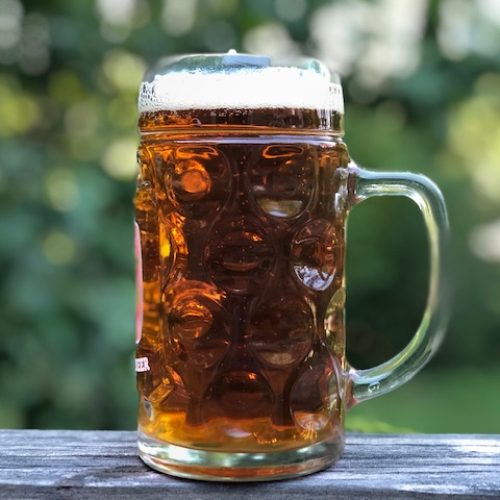 It's September! Time for Oktoberfest! Wait… What?
Oktoberfest beer releases mark the unofficial end of summer and the beginning of the cozier fall drinking season. The light in the afternoon starts to look a little different. Cooler evenings break the persistent summer humidity, school is back in session (maybe virtually), and there is a feeling of change in the air. Many people are surprised that these Oktoberfest beers start showing up on store shelves at the end of August, but there's actually a historically accurate reason why. I wanted to take a little time with you to talk about Oktoberfest, why you actually drink these beers in September, and to give you a few great Asheville recommendations to try this season.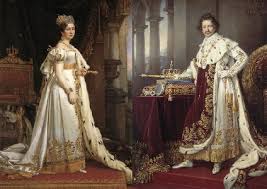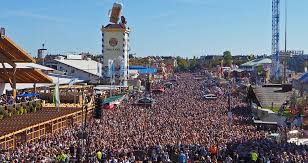 Oktoberfest or Wiesn, is a huge annual festival held in Munich, Germany each year that celebrates the wedding anniversary of Crown Prince Ludwig and Princess Therese on October 12, 1810. Back then, the monarchy welcomed ordinary citizens to partake in five days of wedding festivities outside of the castle gates in the meadow (Wiesn in German; hence the name).
Over the years, the anniversary celebrations expanded to include carnival rides, eating contests, barrel races and of course, beer. By 1896, the original small beer tents were transformed into the massive beer halls you see today.
Today, Munich's Oktoberfest runs through the month of September in an effort to spread out the fun (and hopefully have some better weather), and officially ends on the first Sunday of October each year. Roughly six million visitors flood the city square over the weeks-long party to enjoy polka music, pretzels and sausages, and lots and lots of beer. The beer halls are sponsored by only a few select breweries. The main requirement is that the brewery must have been in operation since the original wedding 210 years ago.
Sadly, COVID-19 has shut down Oktoberfest for 2020. This is the 25th time in the past 200 years that the beer will not flow. Cholera and wars put a damper on things in the past, so rest assured Oktoberfest will be there once this craziness settles down.
What are Oktoberfest Beers?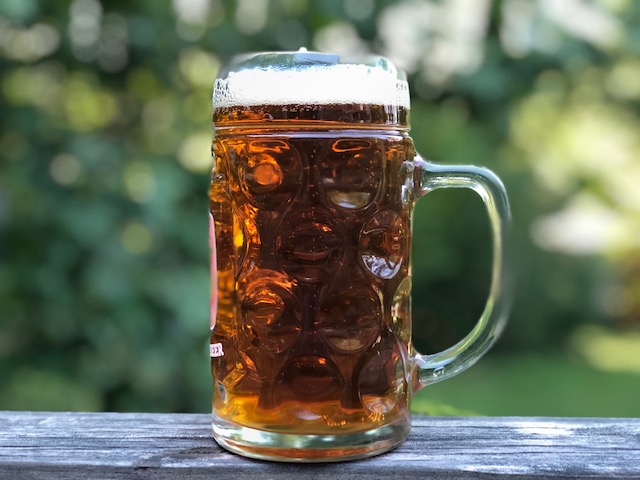 There are two popular styles you'll find during Oktoberfest whether in you're in the US or Germany, and Asheville brewers have recreated excellent examples of both to enjoy this year. Märzen is the older of the two styles, while modern Munich revelers are more likely to be found hoisting a one liter Maß (pronounced "mass") of Festbier. So, what are they and how are they different?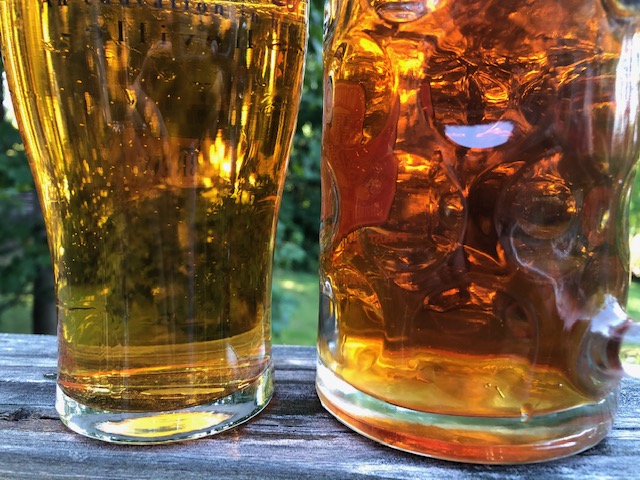 Märzen is what most people think of when imagining an Oktoberfest lager. This deep copper colored beer was traditionally brewed in March, hence the name Märzen. After the primary fermentation was complete, the beer would have been stored cold ("lagered" in German) for months until it was ready to drink during the celebration. Märzens typically come in around 6% alcohol and often have flavors of toasted bread, hints of caramel and herbal hops.
Most US breweries have focused on this style for the Oktberfest season, and bigger names like Sam Adams have been stocking store shelves with Märzen for years. The thing about Märzen is that it can be a little filling. Oktoberfest in Munich is about drinking liter after liter of beer, so drinkability is extremely important.
By the 1970s, German brewers saw the need for a less filling lager for Oktoberfest. They needed one designed for mass consumption. Paulaner Brewery answered the call and poured their first Festbier in the mid-1970s. According to their head brewer, they wanted it to be "more poundable". And it was. Malt flavors continue to dominate in the lighter style, but it is crisper and lighter bodied; without the deeper toasty notes associated with Märzen. A touch of herbal or floral hops, and you've got a beer you can drink all day long as you consider a new life playing tuba for an oompah band. Since 1990, Festbier has been recognized as the official Oktoberfest style in Munich.
Paulaner Shakes It Up in the 1970s.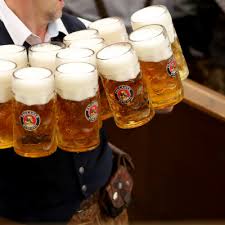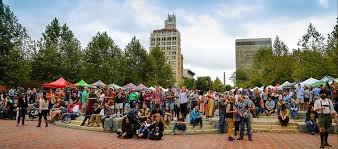 Asheville is well known for its love of beer. Our city has 15 breweries in the downtown area alone, and since 1994 has grown to become one of the best known beer cities in the US. It only makes sense that we would have our own Oktoberfest festival, and for over a decade we have.
Unfortunately, there will be no Oktoberfest festival in Asheville this year, either. COVID-19 makes a beer festival seem like a pretty questionable place to be this fall, and the organizers have decided to scrap it. While super disappointing, that doesn't mean you can't enjoy some great local Oktoberfest beers.
Asheville Oktoberfest Beers
I chose these four because they represent both the Märzen and Festbier categories, and because they are all packaged and ready to be consumed at home if you're feeling wary about drinking at a brewery right now.
Hi-Wire Brewing – Zirkusfest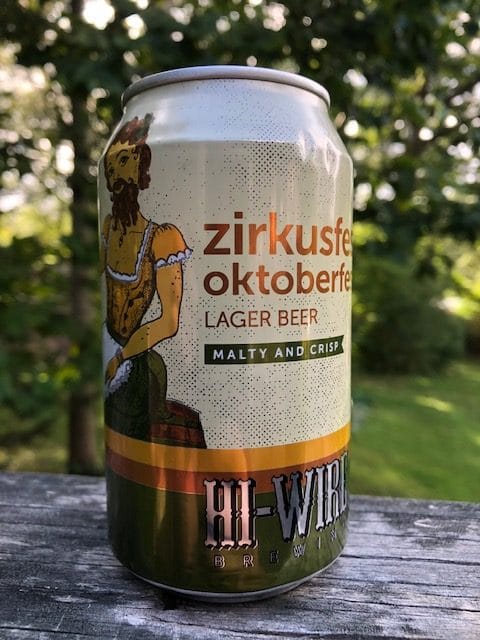 Hi-Wire Brewing has been brewing amazing traditional lagers since 2013. They were ahead of their time in embracing the long slow lager fermentation. Over the past couple of years there has been a lager resurgence in the craft beer world and many of the newer lager brewers owe some gratitude to Hi-Wire for helping craft beer drinkers realize that lager doesn't have to mean Bud Light. Their Zirkusfest is no exception. This traditional German Märzen features German malts and hops, and a clean fermenting lager yeast. Hi-Wire brought home a gold medal from the Great American Beer Festival for their Zirkusfest in 2016, a huge honor for any small brewery. Deep malt character with a toasty, slightly raisiny flavor and a crisp clean finish make Zirkusfest a great choice for fall. 
Burial Brewing teamed up with Creature Comforts, out of Athens, GA to create Culture Keepers. For their collab the breweries chose the Festbier style. Culture Keepers pours a deep golden color. The grain bill of this beer is made up exclusively of barley malted at Epiphany Craft Malt, a small independent maltster right here in North Carolina. Burial and Creature Comforts teamed up to turn those grains into an amazingly drinkable Festbier that brings both a depth of flavor and nuance, but leaves you ready for another Maß when you're done. You'll notice that Burial packaged theirs in 16oz cans, a sure signal to its drinkability.
Burial Beer Culture Keepers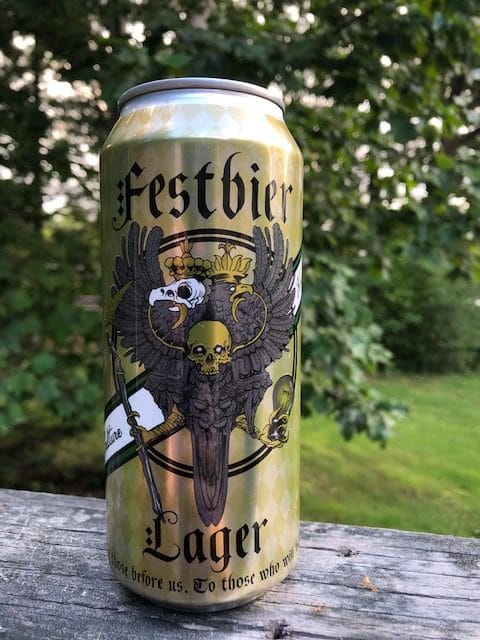 Highland Brewing – Clawhammer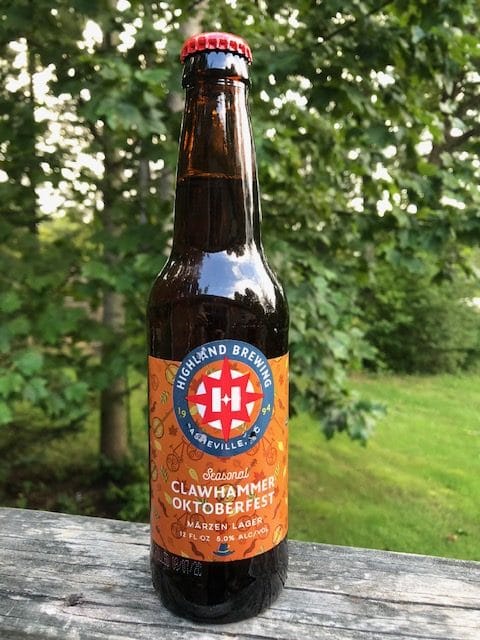 Highland Brewing is Asheville's original craft brewery. They've been at it since 1994 and have built their reputation on brewing quality beers that are true to style. Clawhammer is no exception. Based on the richer Marzen style, Clawhammer is toasty with aromas reminiscent of brown bread with a hint of fruitiness. Hops are pretty subdued and lend just enough bitterness to balance out the toasty malts and leave a crisp clean finish. A classic Asheville Oktoberfest that never disappoints.
Sierra Nevada has spent the past several years collaborating with traditional German brewers to make their Oktoberfest lager, and each year the beer has been a little different. This year, COVID restrictions put quite the damper on international travel, but it didn't stop Sierra from brewing an amazingly clean and refreshing Festbier. Crackery German Pilsner malt flavors with just a hint of toast and floral German hops come together to create a thirst quenching Festbier that could easily be drunk by the liter. 
Sierra Nevada -Oktoberfest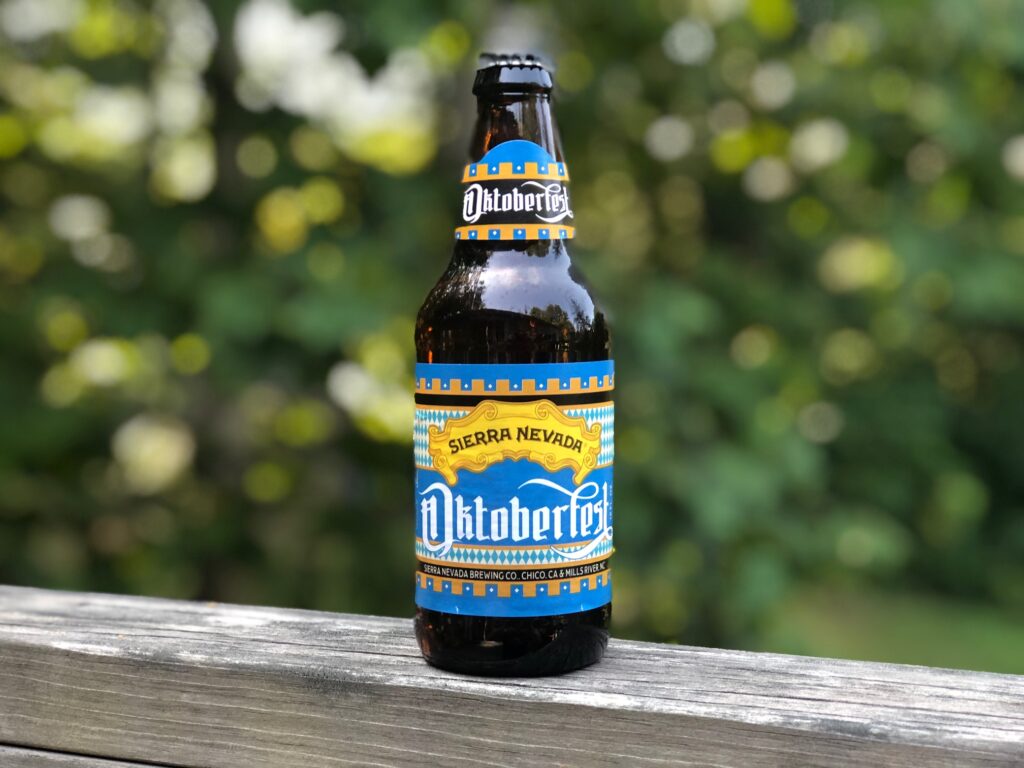 Asheville Oktoberfest at Home
So whether you're ready to hoist a Maß with friends at the brewery or would prefer to keep it at home this year, Asheville's local brewers have you covered. If you'd like to join us on a brewery tour this Fall, we'll do our best to find some Oktoberfest beers for you to try.