You've probably heard the expression "Beer is art". For South Asheville, that is about to become even more true. Craftcentric Taproom and Bottle Shop is getting ready to open its doors at 100 Julian Shoals Drive, in the newly constructed shopping center on Long Shoals Rd. Owner Matt Vaughan, a longtime Asheville resident and passionate beer geek, showed me around the space this week and explained how Craftcentric is a little different from the typical beer store. "I wanted to create a space where people feel comfortable to come in, kick their feet up, have a couple of beers and take some home with them," Matt told me as we looked around the store while construction crews made finishing touches to the bar area. "Of course, we are going to have great beer, but we also wanted to make a space for local artists to show their work. There really isn't a place like that in South Asheville." Matt plans to curate pieces from area artists to hang on the walls of the taproom. Interested customers will be able to purchase the art on the walls, allowing the décor of Craftcentric to change often.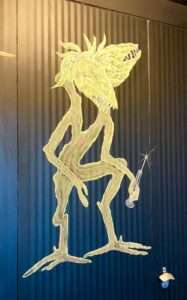 Even the walk-in cooler that houses Craftcentric's draft system was purposely designed as a chalk canvas. "I expect we will change out the mural on the cooler pretty often," Matt told me. The current picture is of a two-headed hop monster named "Dr. Hop-N-Stein," designed by local artist Paul Meadows. Matt said, "I actually met Paul while I was shopping at Lowe's. He told me his idea, and I said, 'why not?'." Along with local art on the walls and an ever-changing mural on the cooler, the beer selection Craftcentric offers will also be new and fresh. "We will probably have some tried and true brands that people are familiar with, but I also plan to bring in some rare stuff. I intend to stock the types of beers people typically have to go to the brewery to get."
Matt's connections to local breweries will help Craftcentric stand out from the typical beer bar. The draft emphasis will be on local and hard-to-find regional beers, with two lines dedicated to sour beers and one to ciders. The selection will change often, allowing South Asheville residents to enjoy great beer without having to fight the tourist crowds downtown. Customers will be allowed to purchase flights, half pours and full pints of anything on draft.
In addition, any packaged beer from the retail area can be consumed on site for a small corkage fee. Wine by the glass will also be available behind the bar if beer isn't your thing. Craftcentric won't operate a kitchen, but snacks like soft pretzels and chips will always be on-hand for a quick bite, and Main Street Burrito of Mars Hill will operate a pop-up burrito stand on busier days.
For those who don't have time to stay for a pint, Craftcentric will also operate as a traditional beer store. Everything on the shelves will be available for purchase as singles, allowing customers to mix and match to their hearts' content. Craftcentric is focused on quality, and the store will keep more delicate beers, such as IPAs, in LED-lit coolers to best preserve their aromas and flavors. The bottle selection at Craftcentric will also change on a regular basis, giving customers extra incentive to stop in more frequently.
Craftcentric hopes to have the doors open within the next two weeks, with a grand opening tentatively scheduled for mid-December. Special events and bottle releases will be posted to Facebook as construction wraps up and opening day becomes more defined. You can follow them
here
.