Buncombe County Courthouse History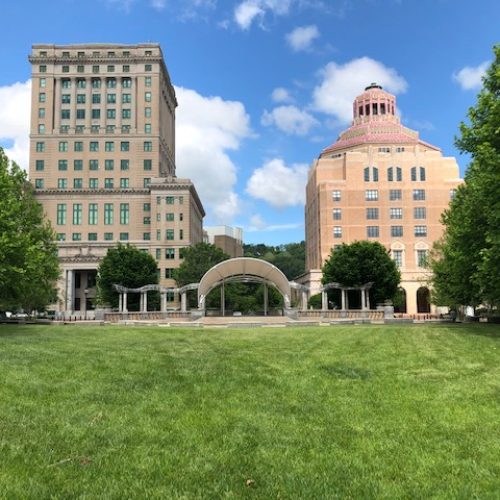 Did you know that the Buncombe County Courthouse you see today on the far side of Pack Square is actually the seventh courthouse constructed in downtown Asheville?
Asheville has been the county seat of Buncombe since the county's inception in 1792.  Several of the early courthouses were made out of wood and burned down, a couple of them were purposefully replaced with bigger ones as the small town grew, but the one we still use today is a testament to the wealth and hopes of Asheville in the 1920s.
For Asheville, the Roaring Twenties was a period of tremendous growth and all of the revenue from new property taxes was going into developing one of the most modern cities in the United States.  To better serve the needs of a growing community, City and County leaders commissioned local architect Douglas Ellington to create a new municipal complex including a City Hall building and a new Buncombe County Courthouse.
Ellington is known for his beautiful Art Deco concepts and his obsession with hexagons in his work.  Some of his other famous buildings in Asheville include Asheville High School, the S&W building on Patton Avenue and The First Baptist Church on Woodfin St.  Ellington's original design for the complex included matching buildings, one to serve as City Hall, one to serve as the Courthouse.  The story goes that after the more conservative Buncombe County officials saw the completed Asheville City Hall they chided it as, "looking like a wedding cake," and decided to hire an outside firm to design the courthouse instead.  A firm from Washington DC called Milburn, Heister and Company was contacted and designed a more stately counterpart to the dramatic and beautiful City Hall.
To learn more about Asheville's History as well as Asheville's breweries, join us on one of our Asheville brewery tours .