A Little Asheville City Hall History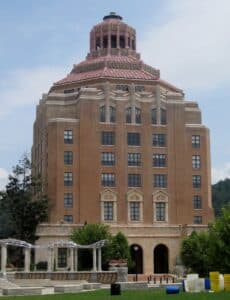 A Quick Look at Asheville City Hall
Asheville City Hall has been a prominent fixture in downtown Asheville since it opened in 1928. It is an iconic landmark that is instantly recognizable to visitors and locals alike. But did you know that the building has an interesting history? Let's take a look at the history of this grand structure and its unique architecture.
History of Asheville City Hall
Asheville City Hall was built between 1926-1928 by architect Douglas Ellington, who also designed many other buildings in downtown Asheville, including Asheville High School and the S&W Cafeteria. Ellington was originally from Clayton, North Carolina, in the eastern part of the state. After studying architecture at the renowned Ecole des Beaux Arts in Paris, he served in World War I before beginning his career as an architect. After working for many years in Pittsburgh, Ellington moved to Asheville. Once in Asheville, Ellington quickly established himself; designing structures such as churches, government buildings, residential homes, and academic institutions. Asheville City Hall was commissioned by then mayor Gallatin Roberts, who wanted to create a strong sense of civic pride for the city's citizens. The building opened to the public in 1928 and has been standing ever since as a proud symbol of Asheville's rich history and architectural heritage.
Architecture
The exterior of Asheville City Hall is made up of red brick with limestone accents, giving it a classic look that stands out from other buildings in the city. Inside, there is a grand staircase leading up to the second floor, where visitors can find meeting rooms for political gatherings as well as offices for city staff members. The building also features detailed murals depicting scenes from North Carolina's past. These murals were painted Clifford Addams, a student and assistant of the famous James Whistler, and they are considered to be some of his greatest works of art.
The Bell Tower
The most eye-catching feature of this historic building is its bell tower, which reaches up above City Hall's pink terracotta tile roof and houses a set of bells that can be heard throughout downtown Asheville on special occasions such as July 4th festivities or when ringing in New Year's Day!  Today, this bell tower remains one of downtown Asheville's best known landmarks!
Check It Out For Yourself!
Asheville City Hall is an iconic landmark full of rich history and breathtaking architecture! Whether you're visiting this historic site or just passing through downtown Asheville, make sure you take some time to admire one of our city's most beloved landmarks – Asheville City Hall!
Learn More On A BREW-ed Brewery Tour
If you'd like to hear more about Asheville's past while exploring some of its best breweries, join us on one of our brewery tours in Asheville!