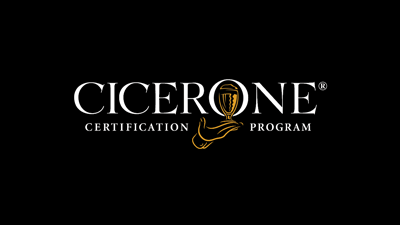 The Cicerone Certification Program was founded in 2008 by craft brewing pioneer Ray Daniels to improve beer service. Since then, it has become the international standard for recognizing those who truly understand beer.
The program is divided into four levels: Certified Beer Server®, Certified Cicerone®, Advanced Cicerone® and Master Cicerone®. With each increasing level, the depth and breadth of beer knowledge required increases exponentially. 
The Certified Beer Server® exam can be done at home. This online test challenges candidates to demonstrate their understanding of craft beer styles, how to properly serve beer, and how the ingredients in beer are used by brewers to create unique flavors and aromas. A Certified Beer Server can help you pick out the perfect beer based on your likes and dislikes, and is someone you want to have behind the bar.
The Certified Cicerone® exam requires a three hour written portioning in which candidates will be tested on everything from the brewing process to draft systems to food pairing. In addition to the written exam, candidates are tested for an hour on their tasting abilities, including their ability to detect off flavors commonly found in beer. A Certified Cicerone is considered an expert when it comes to beer. Many Certified Cicerones work for breweries and distributors as sales reps. They help clients troubleshoot equipment, choose the best beers for their establishments and help train brewery staff.
The Advanced Cicerone® exam is a full day of examination. Six hours is spent on the written portion where a much deeper of knowledge is expected in regard to the material found on the Certified Cicerone exam. An Advanced Cicerone should understand the behind the scenes industries of brewing, such as hop cultivation and barley malting. The Advanced Cicerone exam also tests candidates for over three hous on their tasting abilities. Advanced Cicerones work across the industry as educators and for their deep understanding of not only beer, but the industry as a whole. BREW-ed's founder, Cliff Mori, was one of the first 20 people to ever earn the designation of Advanced Cicerone.
Finally, the Master Cicerone® designation. This test is not for the feint of heart. Only 20 people have ever passed the test, as it is a full two day examination testing everything from tasting ability to building a draft system from a box of spare parts, to creating the menu for a beer dinner, including all of the pairings. Master Cicerones have an unsurpassed level of knowledge regarding beer. Many of the Master Cicerones work for the Cicerone Certification Program, itself. Others work as consultants at the highest level, helping their clients create the best beer experiences in the world.
At BREW-ed, every one of our Asheville brewery tour guides has earned Cicerone certification. This means every guide has passed a rigorous examination testing their knowledge of beer and brewing, as well as their tasting skills. At BREW-ed, we don't just love craft beer, we've dedicated our lives to learning about beer and sharing that knowledge with as many people as we can. Let us share our expertise with you through our Cicerone led brewery tours. Check out our schedule or ask about a private brewery tour!