What is a Hefeweizen Glass?
It's the middle of summer and many beer drinkers are turning to lighter more refreshing beers to beat the heat.  One summertime favorite of many is the Hefeweizen, a light refreshing ale style that is a great thirst quencher on a summer day.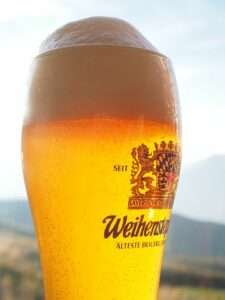 Modern Hefeweizens have their origins in Bavaria, the region surrounding Munich in the southeast corner of Germany.  Hefeweizen literally means \"yeast wheat\" and they are characterized by their cloudiness from still suspended yeast and their tartness from a large proportion of wheat used in the mash.  Traditional German styles require at least 50% of the grain used in the beer to be wheat to be labelled a Hefeweizen, though American brewers aren't as restricted.
Colorwise, Hefeweizens are typically a deep golden color with some showing light shades of orange.  A separate beer style, the Dunkelweizen or "dark wheat," will range from deep copper to a muddy brown depending on the example.    
The aromas of Hefeweizens are reminiscent of banana and clove, though neither is used in the brewing process.  Those characteristic aromas are natural byproducts of the yeast chosen by the brewery during fermentation.   
With respect to flavor, Hefeweizens are light on the palate, slightly tart from the use of wheat and can often carry the banana and clove aromas into the taste experience.  They are often highly carbonated and leave the drinker refreshed and wanting more. 
The traditional glassware for serving a Hefeweizen is called a vase and it very much looks like one.  Personally, I've been known to use Hefeweizen vases to hold flowers on occasion and they do a fine job.   
The first noticeable trait of the glass is its size.  It is considerably larger than a standard 16 oz pint and the reason for this is to allow for a beautiful layer of foam, or head, to rest on top of the beer.  In the US, consumers often operate under a fear of being taken advantage of and expect a beer to be filled to the brim,  When ordering a Hefeweizen it should be expected that at least two to three inches of foam will sit on top of your beer.  I assure you that your bartender is not trying to pull one over on you. 
Next, you will notice the curvature of the glass.  Hefeweizen glasses typically have narrow bases that open to larger bowls before tapering back in near the rim.  The reason for the narrow base is to limit the transfer of heat from the drinker's hand to the beer.  The wider bowl and slightly narrower rim allow aromas to be trapped in a way similar to a wine glass and also allow for great head retention.  Without this inward taper, that beautiful layer of foam would quickly dissipate. 
So, the next time you're looking for a summer refresher, check out an authentic German Hefeweizen, and if you really want the full experience pour it into a vase. 
If you'd like to learn more keep checking back here or sign up for a brewery tour in Asheville!
What Hefeweizen Glass Should You Choose?
Spiegelau is simply the best when it comes to high quality beer glassware. If you want to enjoy your hefeweizen from a true hefeweizen vase, you can't go wrong with this set of four.