A Little About Ashevillian Frank Coxe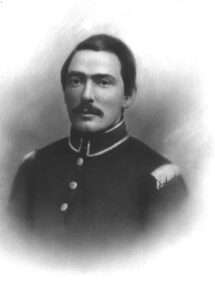 So, last week I wrote a bit about Colonel Frank Coxe and his vision that helped make Asheville the legendary tourist destination it has become.  This week I wanted to share an interesting personal fact about the early life of Colonel Coxe.  Specifically, I want to talk about how he was shot and killed twice during the Civil War.
Frank Coxe was born in Rutherfordton, North Carolina and spent his formative years in the South.  At the age of 21 he enlisted in the Confederate Army and quickly rose to the rank of colonel.  Soon after his promotion, however, Coxe learned that the family's coal mines in Pennsylvania were in danger of being taken by the Union Army.  Coxe, the heir to the family fortune, had the duty to go north and protect his family's interests.  He plead his case to President Jefferson Davis who gave him a pardon from his duties.  Coxe was an honorable man and didn't want his absence to affect the war effort, so he supplied a replacement.  In those days men of means could pay for someone else to serve in their place.  Coxe did just that and went north to manage his family's affairs.
Once Frank got to Pennsylvania he had to take on the role of Union sympathizer in order to protect his family's mines.  The plan worked well, and his family was allowed to keep ownership of the property.  However, being a strong young man, he was quickly noticed and actively pursued by Union recruiters.  Coxe had no intentions of serving the Union side and so he again hired someone to serve in his place.
After the war was over Coxe learned that his surrogates had fought against each other more than once in battle and in one of the last battles of the entire war both were killed.  The thought that he had hired two men and put both to their deaths stayed with him his entire life.  He was convinced that the two men had killed each other and took that guilt to the grave.