Burial Beer Prepares for Major Expansion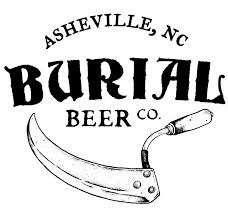 Burial Beer, featured on BREW-ed's Friday Brewery Tours is celebrating its one year anniversary this month and just recently announced an expansion from their tiny one barrel (31 gallon) brew house to a sizable 10 barrel system with plans to include canning and establishment of draft accounts around town.  Jess Reiser, co-owner of Burial Beer, was kind enough to talk to me about the past year and Burial's plans for the upcoming expansion.
BREW-ed: After a year in business, what reality of owning a brewery was the most different from what you imagined, good or bad?
Jess:  In all honesty, I knew it was going to be tough. Running your own business, let alone a fast paced one with high demand, is challenging. The day to day, keeping up with that demand, the big picture of expansion, local reputation and beer reviews are just a few factors that play into our everyday. Just like any thing in life– Some days you feel on top of the world while other days it just feels like things aren't going your way. I call our brewery my "third child" as there are challenges we face every day and every day is new and different–but it is so worth it.
BREW-ed: You guys have been on the hunt for a farm for a long time, but you recently bought a 10 barrel for the current location?  What changed?  Are you still looking for a farm?
Jess:  We have always envisioned having two locations and that has not changed. We just decided that instead of having one of those locations operate on a one barrel system, it will operate on a 10 barrel system. We are still actively looking for a farm. However, due to our dedication, sacrifice and hard work we were able to make this 10 barrel happen which will help us transition more smoothly to a full production brewery. It will also allow us to brew just as often but make 10 times more beer! No brainer! Still on the hunt for a farm, but one step at a time.
BREW-ed: Once the new brew house is in place, what are the plans for the next year? Seven day a week tasting room?  Draft around town/ the region?  Packaging?
Jess: Plans for next year… Expanded taproom hours for sure- probably not 7 days a week, at least not to start. We will certainly be increasing our wholesale and will start with several Asheville accounts and a few in Greenville, SC, Charlotte and Raleigh-Durham. We plan on packaging. We will be using a mobile canner on the 10 barrel and plan on packaging our Scythe Rye Pale Ale and Skillet Donut Stout in 16oz cans. We have not decided on the availability and frequency of the packaged beer at this point. To start, it would remain somewhat limited until we can assess the production versus consumption on the 10 bbl. We will also do more special bottle releases that will most likely be very limited runs of barrel aged beers.
BREW-ed: With the bigger system, will Burial establish flagship beers that are always on offer or will we continue to see a different line-up each week?
Jess: Even as a small 1 barrel brewery, we try to find that balance. Inherently, we like to experiment with new styles and adjuncts and we certainly plan on keeping the 1 barrel system around to make those happen as frequently as possible. I think you will continue to see a different line up with some staples as well. We will have 12-15 taps once we expand which will allow for a combo of variety and flagships such as Scythe Rye Pale Ale and Hacksaw Dark Lager. Yes, we plan on lagering on the new system. We actually plan on making that the first beer we brew. Can't wait!
Neither can Asheville.  Burial quickly established themselves as a great brewery and locals hang out off the beaten path in the South Slope of downtown, but their limited production capacity made it hard for them to keep up with demand.  Burial expects the new system to come on-line this August.  Significant expansions to the tasting room, including an outdoor beer garden and urban farm, will be made before the end of the year.