Is Asheville's Biergarten installing a brewery?
Last week I received an email from a recruiting company with some new job listings that I "match" for. I don't know how I even end up on these lists, but I get one or two of these a week. Most of the jobs are for sales positions with breweries in odd ball parts of the country. Sometimes they think I should teach a college course on a subject I have no experience in. But, occasionally there's something interesting.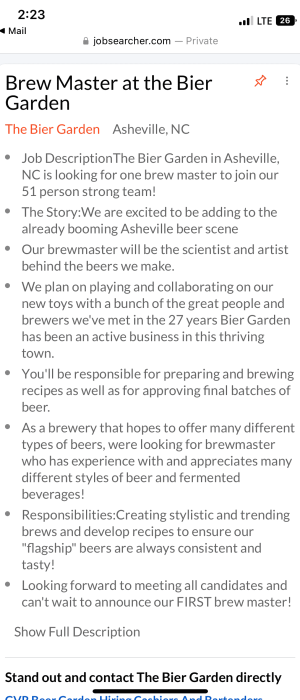 This is the surprising post I received in the recruiter email. Honestly, I haven't thought about The Bier Garden in a long time. Fifteen years ago you could find me there on Monday nights when they ran specials on pitchers of beer, but I haven't been there in at least a decade.
As they note in their job post, The Bier Garden has been in Asheville for 27 years, though despite their name most people don't immediately think of them when asked about places known for beer in downtown Asheville. Located in the old Bon Marche department store building on Haywood Street, some might find it ironic that they do not have an actual "biergarten", an outside area where people can enjoy beer. All of their seating is indoors.
When I first moved here in 2006, The Bier Garden, Barley's Taproom and Hannah Flanagan's (may it rest) were the main bars in town to explore craft beer. At the time, The Bier Garden had a pretty good local selection, and they really tried to bring in unique beers from around the country and around the world. 
Over the years so many other options have popped up, and The Bier Garden has fallen off the radar for many looking for craft beer in Asheville. Over the past five to ten years, beer bars in general have been overshadowed by brewery tasting rooms. Customers are interested in going right to the source rather than getting a curated selection from someone else. Perhaps adding a brewery is The Bier Garden's hope for a rebirth? 
Breweries on the North End of Downtown Asheville
If it's true, and The Bier Garden is diving into the world of in-house brewing, they would be a part of a new group of breweries on the north side of downtown.
Most people think of the South Slope when talking about downtown Asheville breweries. The South Slope has more than a half dozen breweries within a couple blocks of each other. Up until recently, the north side was pretty quiet for beer lovers. With other newer breweries in the area, The Bier Garden will join Dssolvr, Wedge and Archetype, as well as Bold Rock Cider, in bringing a tasting room experience to the north side.
Explore Asheville's Breweries With Us
If you'd like to get more inside scoop on Asheville's local beer industry, join us on one of our award winning brewery tours! We run Wednesday-Sunday each week and other days and times by request. Check out all of the brewery tour options!