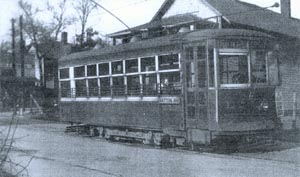 It can be hard to imagine that Asheville was a fast growing metropolitan area for nearly fifty years.  From 1886 – 1929, the city was heavily invested in its infrastructure and growth and was a leader in the south with investment in new technologies that would benefit its citizens.  One of those investments was in the form of an electric streetcar system.
Asheville was the first city in North Carolina to develop an electric streetcar system and it was put into action the same year that Richmond, Virginia established the first system in the country.  This was a full four years before San Francisco ran electric streetcars on its famous lines. 
The Asheville electric streetcar system had lines that ran from Court Square (Now Pack Square) in four directions.  One line ran down Main Street (Biltmore Avenue) to the south, another north to Weaverville and a third down Patton Avenue to the west where it connected with the Southern Railway Depot down on Depot Street.  From Depot Street there was another line built independently that ran down Haywood Road into West Asheville and to the Sulphur Springs Hotel. Other lines were added throughout the years to connect the east side of town, as well as Charlotte Street and the Grove Park Inn.
The streetcar system was widely used and served as Asheville's public transportation system until the last streetcar ran on September 7, 1934.  At that point, as in the rest of the country, bus technology had improved and the streetcar was deemed obsolete. 
Though the lines the streetcars ran on are long gone,  you can still see their old headquarters and repair facility if you look at the building that the Asheville wine market occupies today. 
And, you can always come check out some Asheville history on one of our Asheville brewery tours.