Top 5 Winter Activities In Asheville!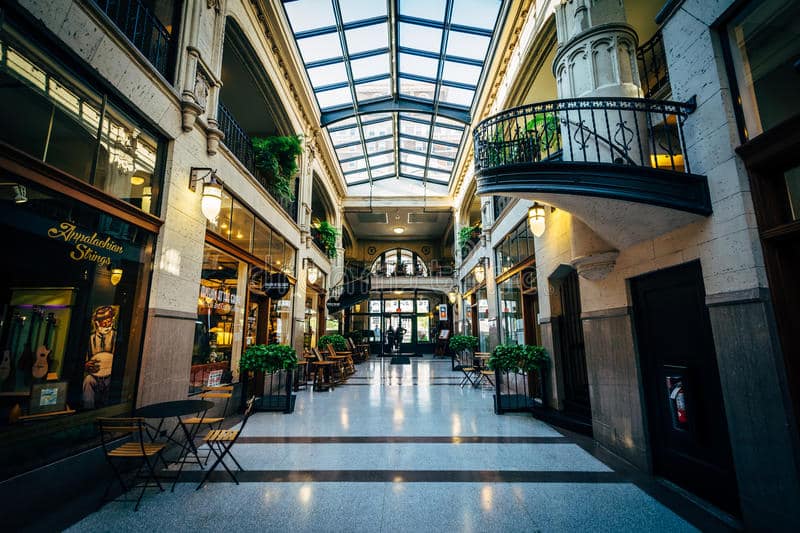 Asheville is a beautiful city to visit any time of year, but wintertime offers a special charm. There are plenty of fun things to do in Asheville during the colder months, from brewery tours to shopping at the Grove Arcade. Here are our top five favorite winter activities in Asheville!
Check Out The Grove Arcade
The historic Grove Arcade is a must-visit destination for any winter traveler to Asheville. Here you'll find an array of shops and restaurants, plus a vibrant nightlife scene with live music and entertainment.
Built in the 1920s, it was one of the first indoor malls in the United States. Today, it houses a variety of shops and restaurants, as well as a farmers market and an art gallery. The Grove Arcade is also home to a number of businesses, including a law firm, a real estate agency, and an insurance company. In recent years, the mall has undergone a major renovation, which has added new features and updated the existing ones. As a result, the Grove Arcade is once again a thriving destination for both locals and tourists alike.
Visit Winter Lights at The North Carolina Arboretum
Every winter, the North Carolina Arboretum in Asheville welcomes visitors from all over to stroll through its grounds, which are illuminated with more than 500,000 lights. The Lights in the Garden event is a beloved tradition for many families, and it's a great way to enjoy the beauty of the arboretum during the colder months. In addition to the lights, there are also fire pits scattered throughout the grounds, providing a cozy spot to warm up and relax. With so much to see and do, it's no wonder that the Lights in the Garden event is one of the most popular winter attractions in Asheville.
Go Skiing or Snowboarding
Nestled in the heart of the Appalachian Mountains, Wolf Ridge Ski Resort is one of the most popular ski destinations in the region. With several trails and a state-of-the-art Snowmaking system, Wolf Ridge offers something for everyone. From beginner to expert, skiers and snowboarders alike can enjoy a day on the slopes. And with stunning views of the mountains, it's no wonder why Wolf Ridge is such a popular spot. So whether you're looking for a challenging run or a leisurely day on the slopes, Wolf Ridge is the perfect place to be.
Take In Some Local Theater
The Asheville Community Theatre will be performing Elf the Musical from December 2-18. Based on the beloved 2003 movie, Elf is the hilarious tale of Buddy, a human who was raised at the North Pole by elves. When Buddy learns the truth about his identity, he sets off for New York City in search of his father. Along the way, Buddy spreads holiday cheer and discovers the true meaning of Christmas. The Asheville Community Theater's production of Elf will be directed by Jeff Catanese and will feature a talented cast of local performers. Tickets are on sale now and can be purchased online or at the theater box office. Don't miss your chance to see this holiday classic come to life on stage!
Join a Brewery Tour With Us!
BREW-ed offers guided tours of some of the city's best craft breweries. Our unique tours provide visitors with a chance to learn about local brewing history, explore downtown Asheville on foot, and taste an array of delicious brews.
At BREW-ed, we offer brewery tours that are led by professional beer educators. Our goal is to provide an educational and informative experience that will help individuals learn more about the brewing process and the various styles of beer.
We offer tours at a variety of breweries, and each tour is designed to showcase the unique offerings at each stop. In addition to touring the brewing facilities, participants will also have the opportunity to sample various beers and talk with local experts about the craft. Whether you are a beer lover or simply looking to learn more about this fascinating industry, our brewery tours are the perfect way to explore the world of craft beer.
Come experience Asheville's craft beer scene with BREW-ed! Sample delicious beers, learn about the brewing process, and explore downtown Asheville with BREW-ed Brewery Tours! Book your tour today!
If you're looking for something to do this winter in downtown Asheville, then you won't be disappointed. From BREW-ed brewery tours to the historic Grove Arcade, skiing and snowboarding at Wolf Ridge Ski Resort and catching a live show at the Asheville Community Theatre, there's something for everyone in the city. So don your warmest coat and gloves and get ready to explore all that downtown Asheville has to offer this winter. You won't regret it!