Asheville is known as Beer City USA for a reason. With over 30 breweries in its city limits, Asheville has more breweries per capita than any other city in the nation. While most of these breweries are located downtown, which makes our walking brewery tours possible, there is much more to explore in the region. Here is a list of recommendations if you want to nerd out on Asheville craft beer!
Visit A Craft Beer Pioneer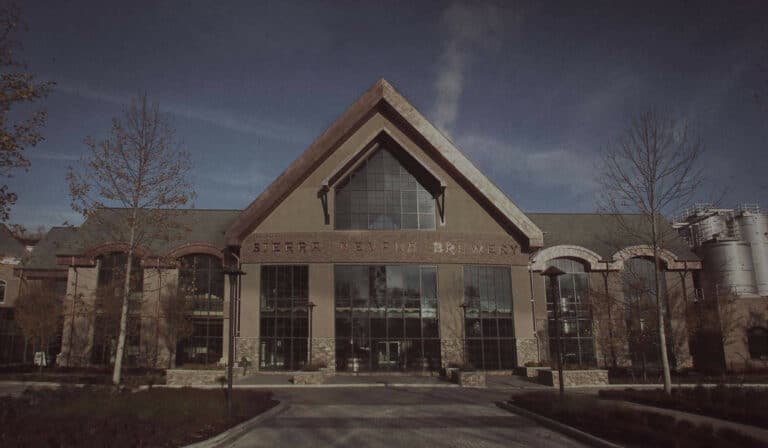 Sierra Nevada has been producing amazing craft beer since 1980. They were one of the first craft breweries in the country when they began their journey in a 3000 square foot warehouse in Chico, California. As the craft beer industry grew, so did Sierra Nevada. In 2014, the brewery made a massive expansion eastward and settled on Asheville, NC as home for a second brewery. The company was attracted to Asheville by logistical things like access to interstates and major markets, but also by the local culture that was so supportive of craft beer and independent businesses.
The story goes that Sierra Nevadas founder, Ken Grossman, had kept notes all along the way of things that he had wished he had done differently when building the original brewery in California. All those plans went into the Asheville facility.
Every attention to detail was made in the Asheville brewery's construction, and the results are spectacular. The exterior of the main building looks like the nicest lake house you'll ever visit. Wood, copper, and glass were used to create a timeless aesthetic. But, the appearance is only part of the story.
Sustainability has been a huge part of Sierra Nevada since the company's inception and the new brewery was built with the environment in mind.
The parking lot tiles outside of the tasting room drain to underground cisterns that collect gray water that's used to flush the toilets inside the building and to water the crops in the huge garden behind the tasting room. The building is covered in solar panels that generate more electricity than the building uses on most days. To process all of the spent grain from the brewing process, there is an anaerobic digester on-site. Bacteria consume the grain and produce methane, which is used to power the boilers in the brewhouse.
Technological features aside, the brewery tasting room is a playground for craft beer lovers. Not only will you find Sierra Nevada's classic beers on tap, but there is a 20 barrel brewhouse on site for pilot batches. These small batch beers are only available at the Sierra Nevada tasting room.
After all that delicious beer, you are likely to get hungry. The food at Sierra Nevada is some of the best in the area. Delicious burgers, Homemade beer cheese, soft pretzels, and other pub fare are produced with care and feature lots of local ingredients. 
To experience the facility and to hear Sierra Nevada's story, I encourage you to sign up for one of their brewery tours. You'll hear the story of one of America's craft beer pioneers, as you explore the biggest brewery in the Asheville area.
Find out more at https://sierranevada.com/visit/north-carolina/taproom/
Visit Asheville's First Brewery
Today Asheville has more than 30 breweries in its city limits, but back in 1994 there was just one. Highland Brewing started in the basement of what is now Barley's Taproom and Pizzeria on Biltmore Ave.
The brewery was founded by Oscar Wong, a retired nuclear engineer who says his wife encouraged him to "get a hobby," as his retirement left him around the house more often and was driving her crazy. That hobby turned into Asheville's first legal brewery since prohibition was repealed.
From those humble beginnings in the basement of Barley's, Highland began distributing its Celtic ale, now known as Gaelic ale, to local bars and restaurants. A need for more production space moved Highland out of the basement of Barley's and into their present-day East Asheville facility in 2005. For more than 15 years Highland has distributed their beer throughout the region, and expanded their presence in the old warehouse buildings they occupy.
Today, Highland Brewing has a massive tasting room, a rooftop bar, an event space perfect for weddings and corporate meetings, and even a large outdoor stage for regional bands touring the area. They are open seven days a week, and for hours and brewery tour information visit their website at https://highlandbrewing.com/
Learn About The Ingredients Brewers Use!
When people think about touring Asheville's craft beer industry, they often think about the breweries themselves and their tasting rooms. But, did you know that Asheville is home to several producers of raw materials used in beer making?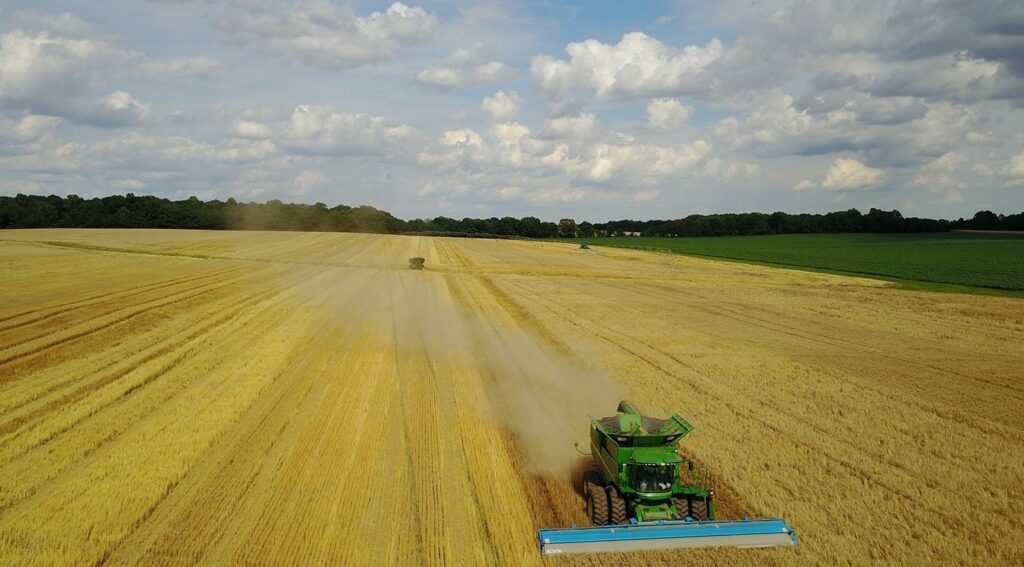 Malted barley is a critical ingredient beer making. Malted barley provides the fermentable sugars yeast turn into alcohol during fermentation. Malted barley determines the color of the finished beer. Malted barley contributes flavors and aromas ranging from white bread and water crackers all the way to chocolate and coffee.
In order to coax all these colors, sugars, and flavors out of barley, the grain has to be transformed. Raw barley is brought in to malt houses, like Riverbend, where skilled maltsters manipulate the germination process to create the starches and proteins that brewers need. From there, the grain is dried and kilned to create a wide array of products ranging in color and flavor. Check out this post for more on malted barley!
All of that happens right here in Asheville at Riverbend Malt house. Riverbend opened their doors in 2011, and they were the first craft maltster in the Southeast. Since then, they've been using regionally grown barley to create the products that brewers need to produce truly local craft beer. From humble beginnings making one ton batches, Riverbend's facility now spans over 70,000 square feet in South Asheville.
If you'd like to see how raw barley is transformed, contact Riverbend through their website at www.riverbendmalt.com!
Visit White Labs Kitchen And Tap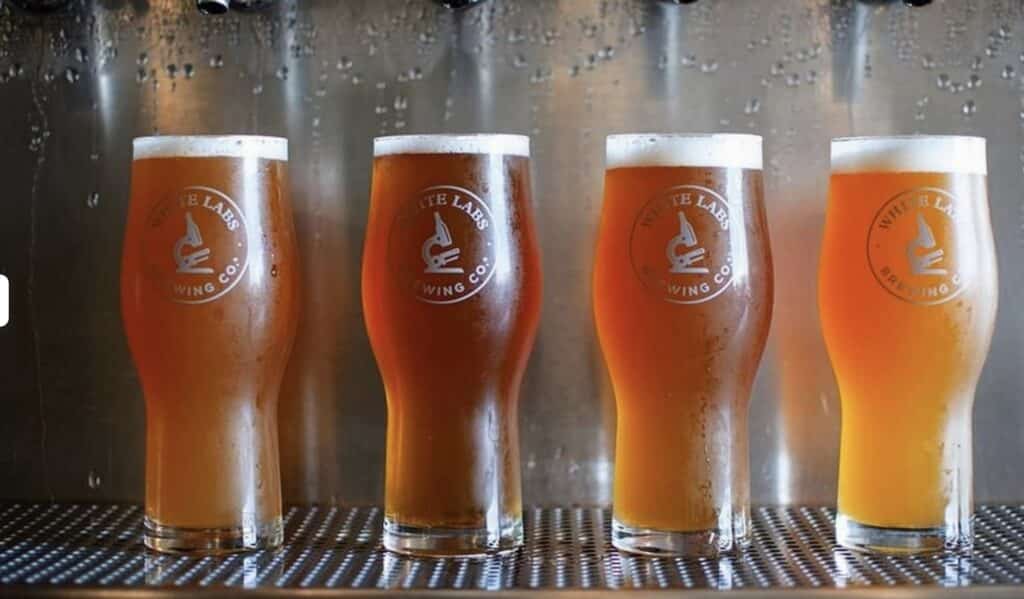 There is an old saying in the brewing world that, "Brewers may wort, yeast make beer". Yeast is responsible for fermentation in beer making. Billions of yeast cells gobble up sugars in brewer's wort and create alcohol, carbon dioxide, and over 500 flavor and aroma compounds. There are hundreds of different yeast strains for brewers to choose from, and they need just the right ones to create the right flavors and aromas in their finished beer.
White Labs has been supplying the brewing industry with great yeast since 1995. The company'ss origins are in San Diego CA, but in 2017 White Labs opened an East Coast facility right here in Asheville.
Along with biotech facilities responsible for propagating yeast colonies and selling those colonies to brewers, White Labs also built an on-site brewery, a tasting room, and a restaurant. Today, you can tour White Labs production facilities, nerd out on fermentation, and then grab dinner while you sip on locally made beers brewed with White Labs yeast. A personal favorite of mine is to try a flight of the same White Labs beer fermented with different yeast strains. It's amazing how just using different yeast can truly change the flavor, aroma, and sometimes even the appearance of a beer.
Find out more about White Labs at www.whitelabsbrewingco.com/asheville-nc/
Take An Asheville Brewery Tour With Us!
Of course we are biased, but a great way to check out the local beer scene is on one of our Asheville brewery tours. We will take you behind the scenes of Asheville's local breweries, show you the tools and processes that brewers use, and sample lots of delicious local beer along the way.
Did you know that Asheville's South Slope is home to more than a half dozen breweries within a couple of blocks of each other? This collection of old warehouses at the South end of downtown Asheville is a modern day playground for craft beer enthusiasts. We will take you between some of Asheville's most famous South Slope breweries on one of our afternoon brewery tours.
All of our tours are walking tours, which means we can share more of Asheville in between stops. Asheville is an amazing city with a fascinating past, and we love sharing it's local history with our guests.
At BREW-ed, beer education is important. All of our tours are led by recognized beer experts. Over the years, we have won awards from TripAdvisor and National Geographic because we offer a different spin on the traditional brewery tour.
If you'd like to join us in exploring Asheville craft breweries, check out all the options on our brewery tour page. We hope to see you on a tour!