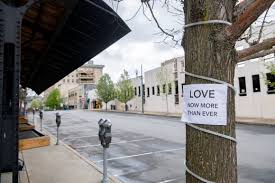 Will We Be Open This Summer?
Downtown Asheville is very quiet right now. The coronavirus pandemic has ground business to a halt for bars and restaurants, and our local hotels are mostly empty. Buncombe County is under a shelter in place order, and it seems like full brewery tasting rooms are a distant memory. Here, like most parts of the country, we are wondering when life will get back to normal.
Obviously, with the closing of breweries to the public, our Asheville brewery tours have been canceled for the foreseeable future. The beer scene is limited to curbside pick up and to go for all of the south slope breweries that we visit. Asheville Brewing Company has closed their downtown brewery location completely for the time being. Hi-Wire brewing has also closed their downtown location, though the Big Top facility in Biltmore Village is selling a variety of beers from not only Hi-Wire but other local breweries as well.
While things don't look great now for a brewery tour in Asheville, we are optimistic that this Summer life will begin to go back to normal. Fortunately, our tour guides are healthy and safe, and we look forward to sharing great beer with all of you soon. In the meantime, buy some craft beer from our local breweries if you're able. Asheville is one of the greatest beer cities in our country, and our local breweries need your help.
Over the next few weeks, we are working on putting together videos that will walk viewers through the brewing process, the history of beer and different beer styles from some of our local breweries. The goal is kind of a virtual brewery tour of Asheville. So, stay tuned, stay healthy, and stay home (unless you're going out to buy some beer from a local brewery).